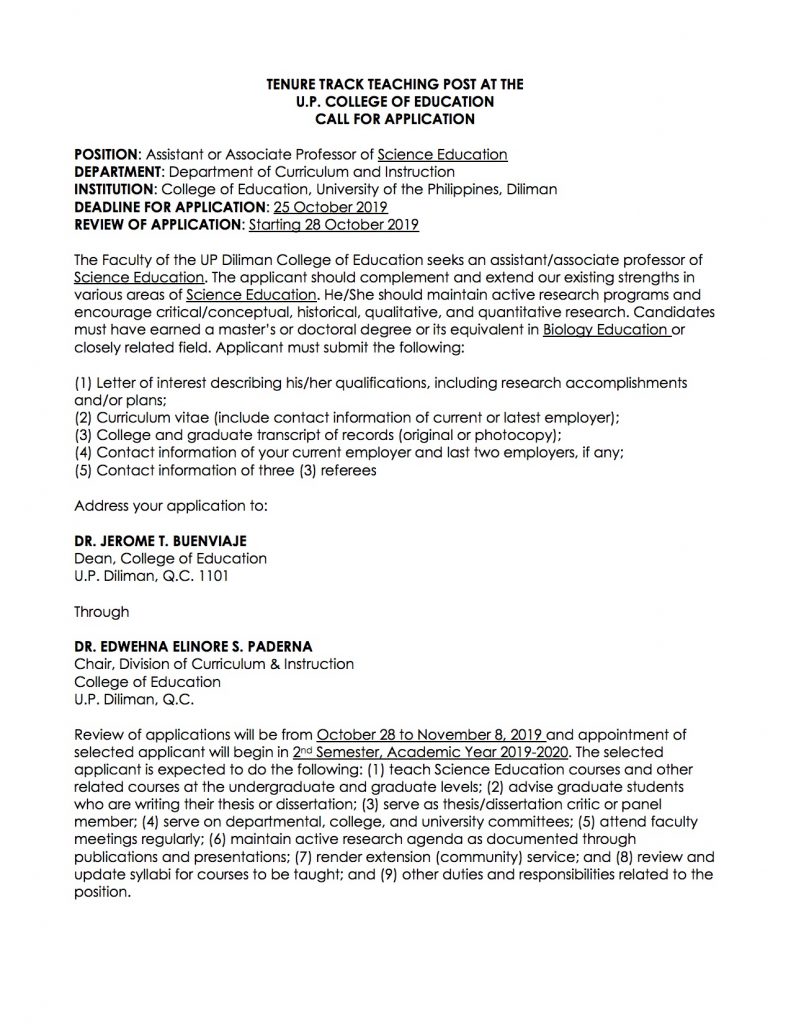 TENURE TRACK TEACHING POST AT THE U.P. COLLEGE OF EDUCATION
CALL FOR APPLICATION
POSITION: Assistant or Associate Professor of Science Education
DEPARTMENT: Department of Curriculum and Instruction
INSTITUTION: College of Education, University of the Philippines, Diliman
DEADLINE FOR APPLICATION: 25 October 2019
REVIEW OF APPLICATION: Starting 28 October 2019
The Faculty of the UP Diliman College of Education seeks an assistant/associate professor of Science Education. The applicant should complement and extend our existing strengths in various areas of Science Education. He/She should maintain active research programs and encourage critical/conceptual, historical, qualitative, and quantitative research. Candidates must have earned a master's or doctoral degree or its equivalent in Biology Education or closely related field. Applicant must submit the following:
(1) Letter of interest describing his/her qualifications, including research accomplishments and/or plans;
(2) Curriculum vitae (include contact information of current or latest employer);
(3) College and graduate transcript of records (original or photocopy);
(4) Contact information of your current employer and last two employers, if any;
(5) Contact information of three (3) referees
Address your application to:
DR. JEROME T. BUENVIAJE
Dean, College of Education
U.P. Diliman, Q.C. 1101
Through
DR. EDWEHNA ELINORE S. PADERNA
Chair, Division of Curriculum & Instruction
College of Education
U.P. Diliman, Q.C.
Review of applications will be from October 28 to November 8, 2019 and appointment of selected applicant will begin in 2nd Semester, Academic Year 2019-2020. The selected applicant is expected to do the following: (1) teach Science Education courses and other related courses at the undergraduate and graduate levels; (2) advise graduate students who are writing their thesis or dissertation; (3) serve as thesis/dissertation critic or panel member; (4) serve on departmental, college, and university committees; (5) attend faculty meetings regularly; (6) maintain active research agenda as documented through publications and presentations; (7) render extension (community) service; and (8) review and update syllabi for courses to be taught; and (9) other duties and responsibilities related to the position.