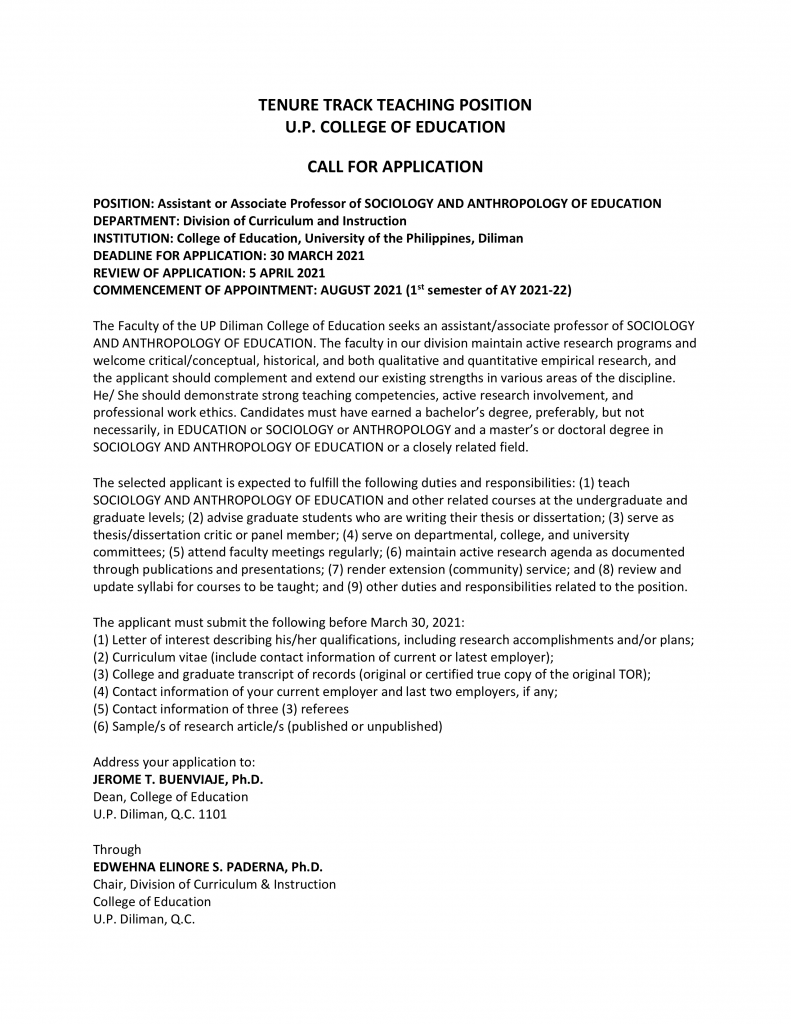 TENURE TRACK TEACHING POSITION U.P. COLLEGE OF EDUCATION
CALL FOR APPLICATION
POSITION: Assistant or Associate Professor of SOCIOLOGY AND ANTHROPOLOGY OF EDUCATION DEPARTMENT: Division of Curriculum and Instruction
INSTITUTION: College of Education, University of the Philippines, Diliman
DEADLINE FOR APPLICATION: 30 MARCH 2021
REVIEW OF APPLICATION: 5 APRIL 2021
COMMENCEMENT OF APPOINTMENT: AUGUST 2021 (1st semester of AY 2021-22)
The Faculty of the UP Diliman College of Education seeks an assistant/associate professor of SOCIOLOGY AND ANTHROPOLOGY OF EDUCATION. The faculty in our division maintain active research programs and welcome critical/conceptual, historical, and both qualitative and quantitative empirical research, and the applicant should complement and extend our existing strengths in various areas of the discipline. He/ She should demonstrate strong teaching competencies, active research involvement, and professional work ethics. Candidates must have earned a bachelor's degree, preferably, but not necessarily, in EDUCATION or SOCIOLOGY or ANTHROPOLOGY and a master's or doctoral degree in SOCIOLOGY AND ANTHROPOLOGY OF EDUCATION or a closely related field.
The selected applicant is expected to fulfill the following duties and responsibilities: (1) teach SOCIOLOGY AND ANTHROPOLOGY OF EDUCATION and other related courses at the undergraduate and graduate levels; (2) advise graduate students who are writing their thesis or dissertation; (3) serve as thesis/dissertation critic or panel member; (4) serve on departmental, college, and university committees; (5) attend faculty meetings regularly; (6) maintain active research agenda as documented through publications and presentations; (7) render extension (community) service; and (8) review and update syllabi for courses to be taught; and (9) other duties and responsibilities related to the position.
The applicant must submit the following before March 30, 2021:
(1) Letter of interest describing his/her qualifications, including research accomplishments and/or plans; (2) Curriculum vitae (include contact information of current or latest employer);
(3) College and graduate transcript of records (original or certified true copy of the original TOR);
(4) Contact information of your current employer and last two employers, if any;
(5) Contact information of three (3) referees
(6) Sample/s of research article/s (published or unpublished)
Address your application to:
JEROME T. BUENVIAJE, Ph.D.
Dean, College of Education U.P. Diliman, Q.C. 1101
Through
EDWEHNA ELINORE S. PADERNA, Ph.D.
Chair, Division of Curriculum & Instruction College of Education
U.P. Diliman, Q.C.