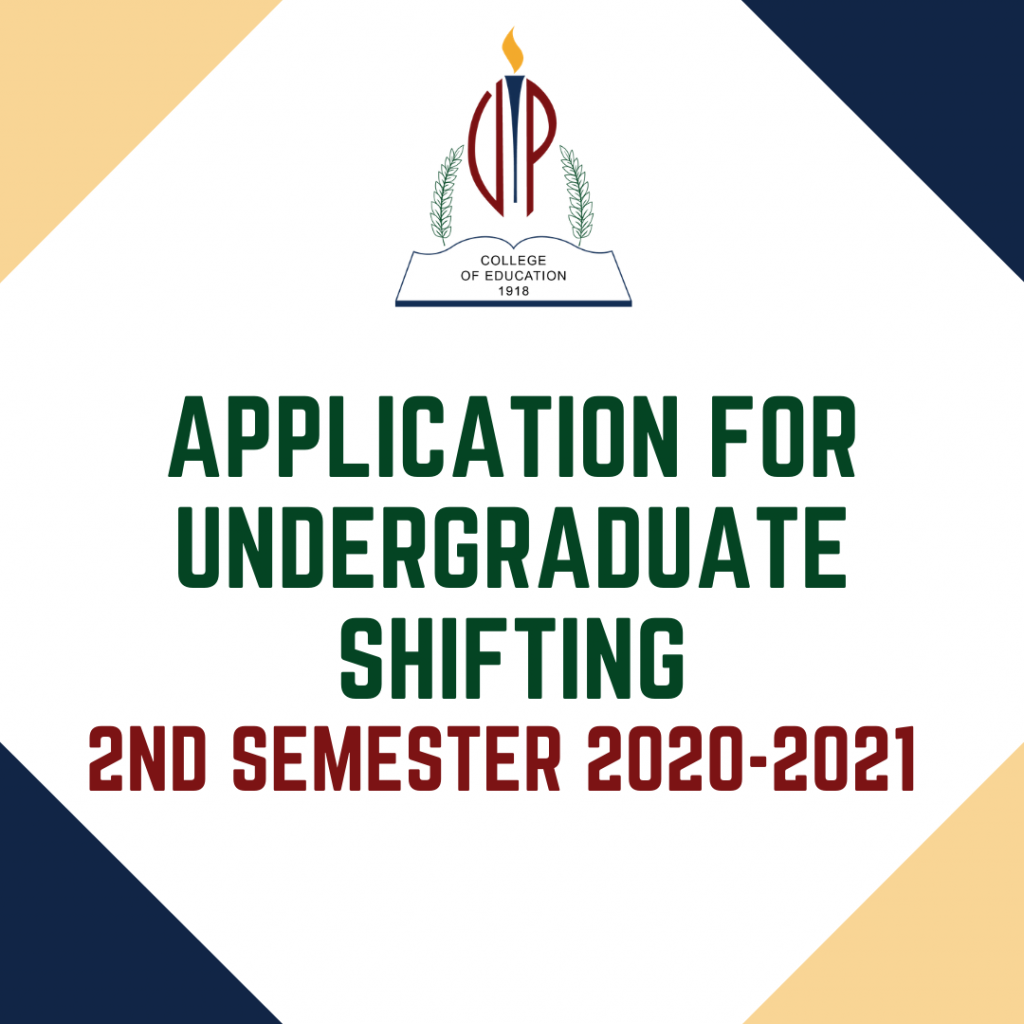 ATTENTION: APPLICANTS FOR UNDERGRADUATE SHIFTING FOR 2ND SEMESTER 2020-2021
Dates for undergraduate shifting for 2nd Semester 2020-2021
Deadline of application for shifting (within the College and from UPD units): January 29, 2021
Deadline for transferring (from other UP units and other schools and universities: Not applicable
Online Teaching Aptitude Test: February 3, 2021
Career Assessment Test/Counseling: By appointment with the Office of the Counseling and Guidance within the year
Interview: February 5, 2021
Applications submitted beyond the deadline will no longer be accepted.
Important Reminder: Before applying for shifting, please take note of the following:
The College is working on a tight schedule. Since the submission of grades is on January 22, 2021, applicants are given one week to work on their requirements.
Results will be released within the 3rd week of February 2021.
Students who will be accepted in the program will have one year probationary period. They should maintain a grade of 2.5 or better per semester (based on UP CEd Retention Policy) and should only take subjects prescribed in the program of study/curriculum checklist.
Deadlines for undergraduate shifting and transferring for 1st Semester 2021-2022 – TBA
*Application for shifting for 2nd Semester 2020-2021 will only be allowed this AY 2020-2021 as per UPCEd Faculty decision (June 15, 2020).
Requirements:
For requirements and procedures on change of program within the College: https://educ.upd.edu.ph/processing-of-change-of-program-within-the-college-undergraduate-and-graduate/
For requirements and procedures on shifting from UPD units: https://educ.upd.edu.ph/undergraduate-shiftees/