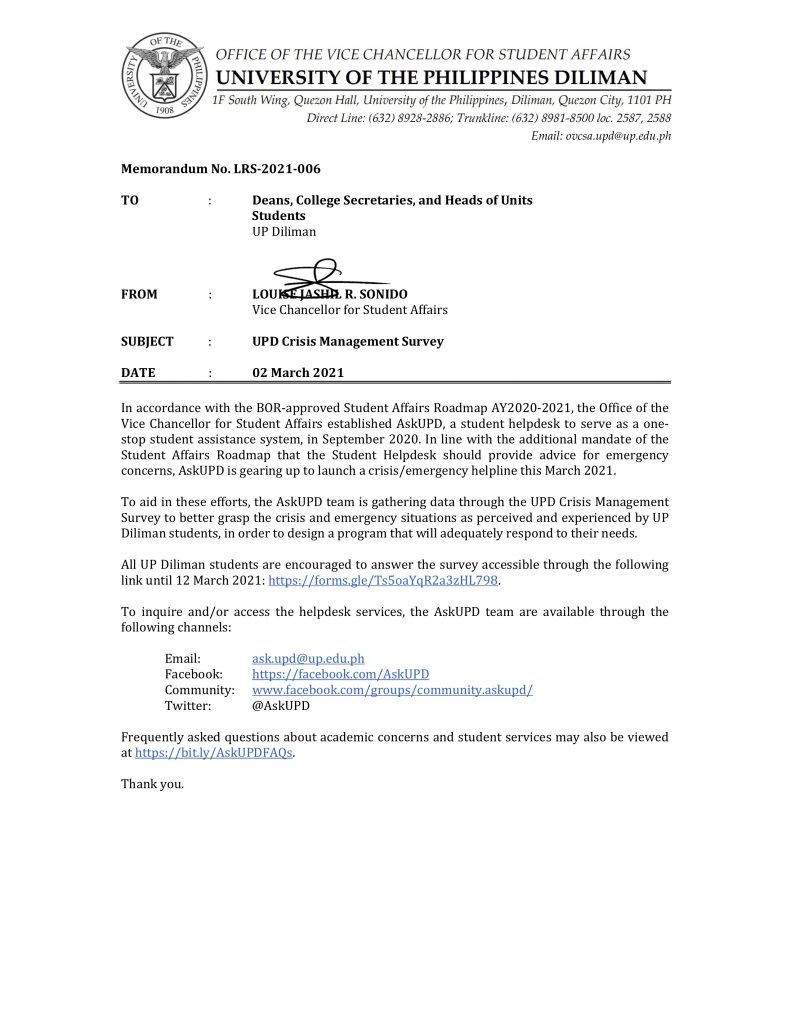 In accordance with the BOR-approved Student Affairs Roadmap AY2020-2021, the Office of the Vice Chancellor for Student Affairs established AskUPD, a student helpdesk to serve as a one- stop student assistance system, in September 2020. In line with the additional mandate of the Student Affairs Roadmap that the Student Helpdesk should provide advice for emergency concerns, AskUPD is gearing up to launch a crisis/emergency helpline this March 2021.
To aid in these efforts, the AskUPD team is gathering data through the UPD Crisis Management Survey to better grasp the crisis and emergency situations as perceived and experienced by UP Diliman students, in order to design a program that will adequately respond to their needs.
All UP Diliman students are encouraged to answer the survey accessible through the following link until 12 March 2021: https://forms.gle/Ts5oaYqR2a3zHL798.
To inquire and/or access the helpdesk services, the AskUPD team are available through the following channels:
Email: ask.upd@up.edu.ph
Facebook: https://facebook.com/AskUPD
Community: https://www.facebook.com/groups/community.askupd/
Twitter: @AskUPD
Frequently asked questions about academic concerns and student services may also be viewed at https://bit.ly/AskUPDFAQs.
Thank you.