Health Advocacy, Promotion and Instruction Days, dubbed as H.A.P.I. Days is a week-long event of the Health Education Area of the College of Education. It aims to provide a platform to increase awareness of the UPCEd community on the importance of keeping one's self healthy as well as promote its crucial role in building healthy communities. This was done through a series of activities from October 18-21, 2016.
The event kicked off with a blood donation drive in collaboration with the Philippine Red Cross. Around 27 blood bags were collected.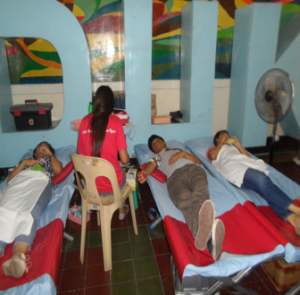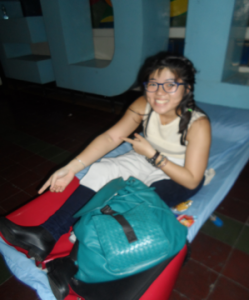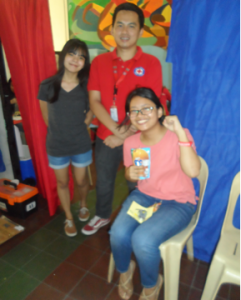 The second day showcased the promotion of health through arts, music, dance and games.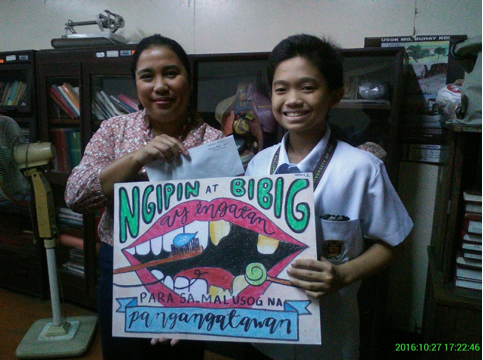 The third day concluded with service Learning: health promotion and instruction in the community setting spearheaded by the EDH 110 class.  Fifty members of the Pook Dagohoy community took part in the basic health screening procedures which include weight, height, body temperature and blood pressure taking strengthened with a lecture-discussion on the prevalence and prevention of Zika Virus.  Raffle and medicine donation reinforced the participation of the community members.
Below are some of the students' feedback on HAPI Days 2016:
 "The beauty of learning more about my health is being able to share the knowledge to others. The HAPI Days event was truly an effective way to culminate everything that we have learned in class–from providing healthy food options for the faculty and students every morning to participating in activities that reminds us of the importance of staying HAPI."

Marika Sison, BS FLCD

"Doing things for a cause. It is always fulfilling to be able to help other people especially those that cannot provide services for themselves. Evaluating the community we helped, I can say that most residents cannot even afford proper health services. A lot of kids are running around with no slippers or shoes and with small open wounds all over their bodies. It is not my intention to accuse the parents of not taking care of their children. Point is, whoever is in charge of the community must try their very best to provide for the services needed by their people. Being able to educate them a little and provide some medicines they might need is indeed, very heartwarming."

                                                                                                        Hanna Panandigan, BSE Biology

"Last October 26, 2016, my class went to the camp site of the Lakbayans at UP Diliman. These Lakbayans are part of the minority groups in Mindanao whose rights and privileges are denied of. They went here to Metro Manila, hoping to improve their living conditions back home and to fight for their rights – right to basic needs i.e shelter, education etc. Being exposed to these people made me more aware of the current happenings within our country, how there are still a lot of improvements that needs to be done, especially in the aspect of politics, economics, and health."

Kyra Constantino, BSE Health

Something Beautiful: A Medical Mission entry
"Living a healthy lifestyle should be on everyone's to-do list. It not only makes you in good shape and prevents diseases but also boosts one's level of happiness. Unfortunately, not everyone has access to proper healthcare and most people are not well-informed about the epidemiology of diseases.  With the goal of promoting healthy living and health awareness, the EDH 110 class conducted a medical mission for the residents of Pook Dagohoy, U.P. Diliman last October 21, 2016.
In this event, we were able to provide basic health-related services such as getting vital signs, checking blood pressures, and computing body mass indexes. Even if there are no doctors, the people of Pook Dagohoy were given an opportunity to see if they have hypertension and obesity which are possible factors in certain diseases. Moreover, we also prepared a mini-Zumba routine so that people are able to stretch and get some exercise. The household-cleaning theme of the dance which involved moves like pagwawalis, kuskos damit, and linis bintana gave a creative twist to the fitness routine and made exercising an enjoyable experience. An informative talk was also given which discussed the Zika virus and its sources, symptoms, and preventive measures one can take to avoid getting infected. Sandwiches and juice were also provided during the medical mission.The ultimate goal of promoting health awareness and encouraging a healthy lifestyle was attained. The lessons we learned in class such as the spreading of microorganisms, the value of exercise, and the importance of proper nutrition were all applied in this event which resulted in providing aid and support to the underserved — and I think that's a beautiful thing."

Jeric Conjares, BS Psychology

"Everyone needs a breather from work or school, because sometimes it gets too overwhelming and overworking yourself would really drain your energy and brain cells out. And taking a breather from schoolwork is better when you're reminded of your health, in a comprehensive or holistic manner, and still the compassion to help and promote others' health too is remained. HAPI days is a twice a year program, which in every semester, students like me pause for a bit and reflects on own health. HAPI days. I would say is an assembly of short programs or events that cater to its purpose of promoting one's health; but for students who took part in organizing these, I would say HAPI days is not only the best time think of personal well-being but also it's a great time to finally know our classmates more and cooperate with the prof in a deeper level. It's also a great avenue to showcase talents, in our case, since it was MUSIKALUSUGAN. More importantly, it's a great time to finally recognize the college as a community as the programs are designed to make the whole college participate cohesively."

Regina Bumatay, BS FLCD

 "It was my first time to be part of the HAPI Days and all I can say is that health, above all requires utmost dedication and numerous efforts.  From the series of events itself, I saw how the professors, students alike and staff immensely prepared and from that I realized that health, just like the HAPI Days is something that we all must be preparing for.  Our journey towards good health compels us to study and promote health, exercise; participate in awareness campaigns, donate blood, go on community missions and much, much more… health is something you can mold and transform through interdisciplinary measures."

Alyssa Jeanne Tamondong, BEEd SPED