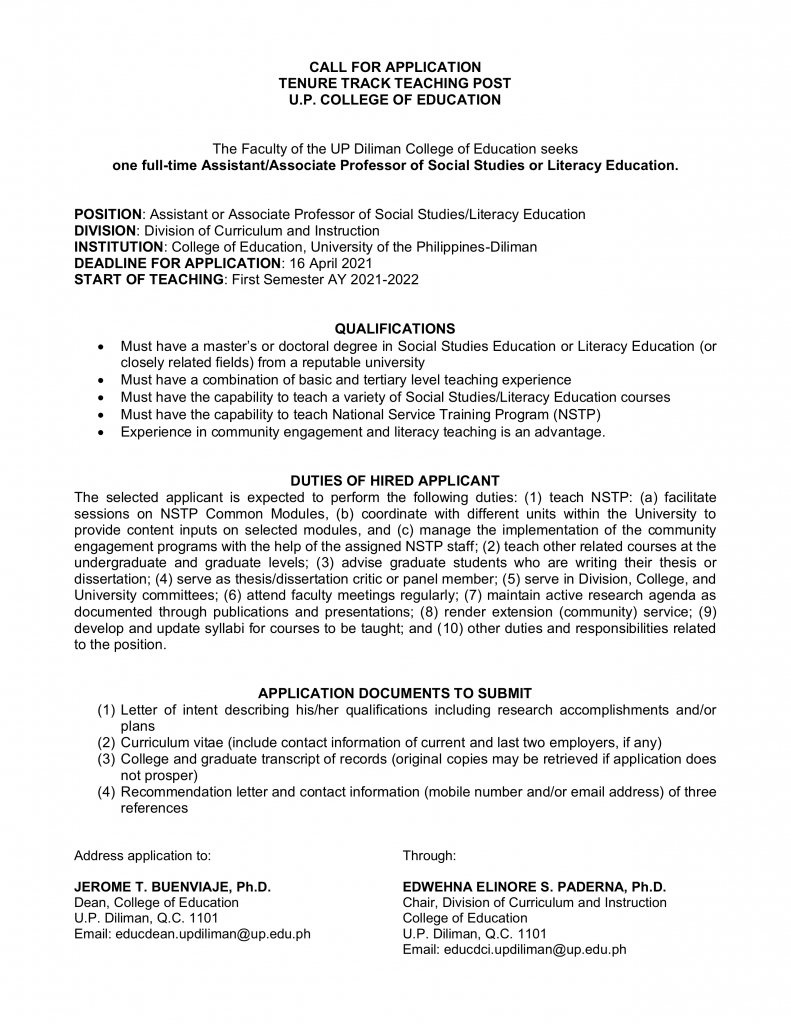 The Faculty of the UP Diliman College of Education seeks one full-time Assistant/Associate Professor of Social Studies or Literacy Education.

POSITION: Assistant or Associate Professor of Social Studies/Literacy Education
DIVISION: Division of Curriculum and Instruction
INSTITUTION: College of Education, University of the Philippines-Diliman
DEADLINE FOR APPLICATION: 16 April 2021
START OF TEACHING: First Semester AY 2021-2022

QUALIFICATIONS
Must have a master's or doctoral degree in Social Studies Education or Literacy Education (or closely related fields) from a reputable university
Must have a combination of basic and tertiary level teaching experience
Must have the capability to teach a variety of Social Studies/Literacy Education courses
Must have the capability to teach National Service Training Program (NSTP)
Experience in community engagement and literacy teaching is an advantage.
DUTIES OF HIRED APPLICANT
The selected applicant is expected to perform the following duties: (1) teach NSTP: (a) facilitate sessions on NSTP Common Modules, (b) coordinate with different units within the University to provide content inputs on selected modules, and (c) manage the implementation of the community engagement programs with the help of the assigned NSTP staff; (2) teach other related courses at the undergraduate and graduate levels; (3) advise graduate students who are writing their thesis or dissertation; (4) serve as thesis/dissertation critic or panel member; (5) serve in Division, College, and University committees; (6) attend faculty meetings regularly; (7) maintain active research agenda as documented through publications and presentations; (8) render extension (community) service; (9) develop and update syllabi for courses to be taught; and (10) other duties and responsibilities related to the position.
APPLICATION DOCUMENTS TO SUBMIT
Letter of intent describing his/her qualifications including research accomplishments and/or plans
Curriculum vitae (include contact information of current and last two employers, if any)
College and graduate transcript of records (original copies may be retrieved if application does not prosper)
Recommendation letter and contact information (mobile number and/or email address) of three references
Address application to:
JEROME T. BUENVIAJE, Ph.D.
Dean, College of Education
U.P. Diliman, Q.C. 1101
Email: educdean.updiliman@up.edu.ph

Through:
EDWEHNA ELINORE S. PADERNA, Ph.D.
Chair, Division of Curriculum and Instruction College of Education
U.P. Diliman, Q.C. 1101
Email: educdci.updiliman@up.edu.ph