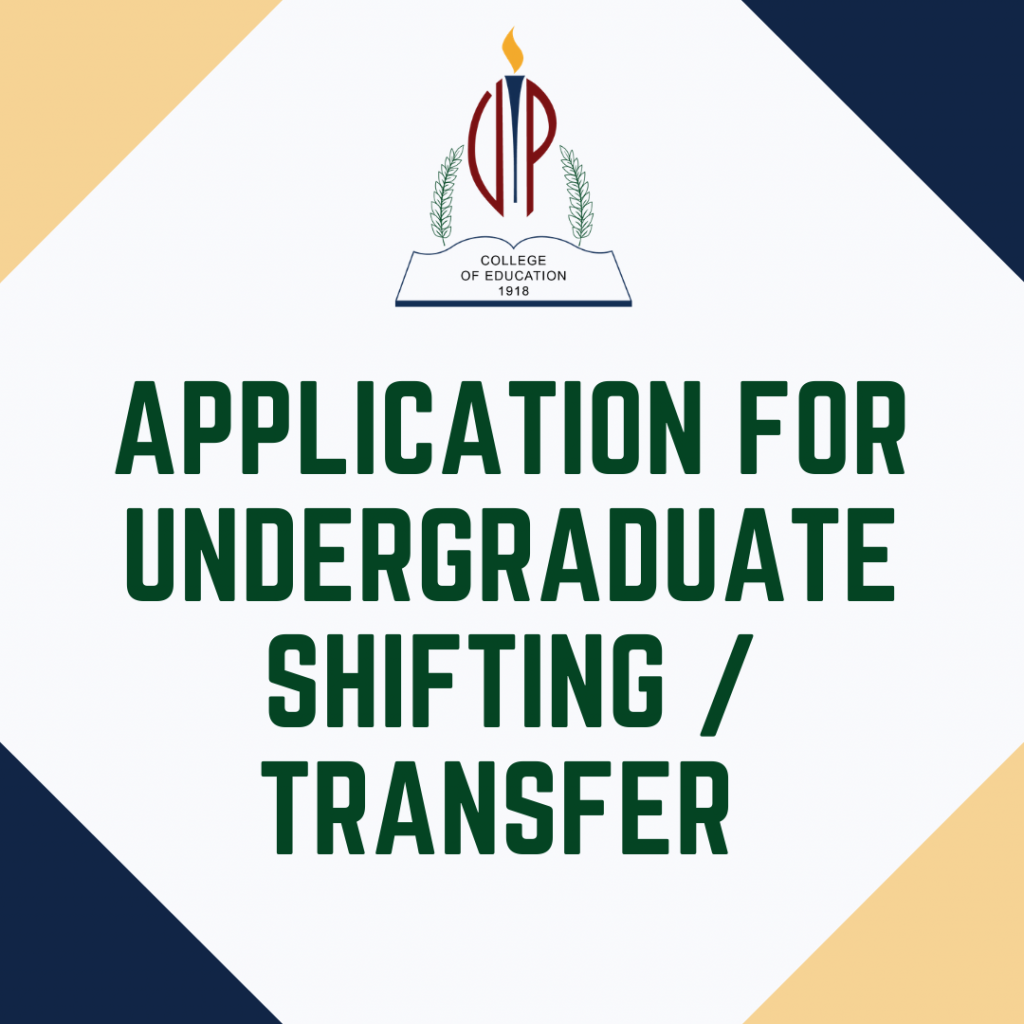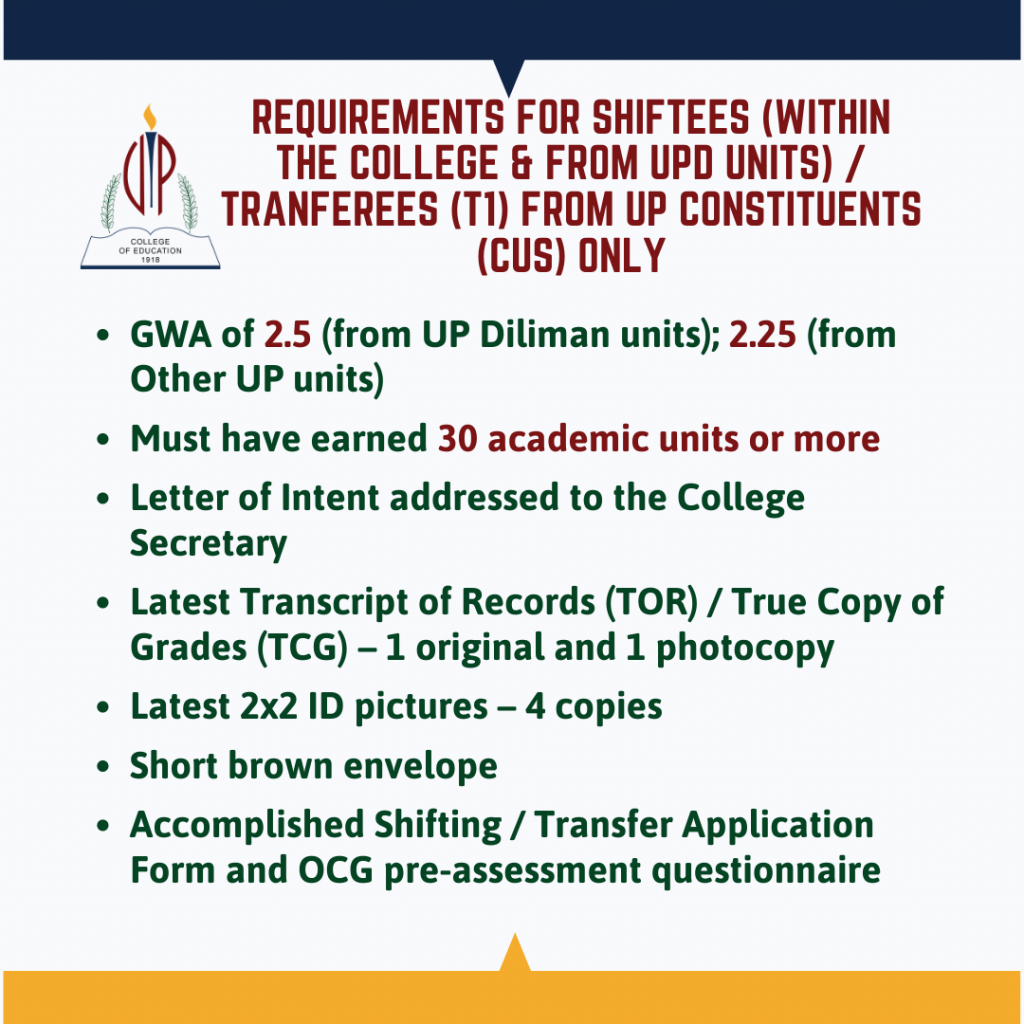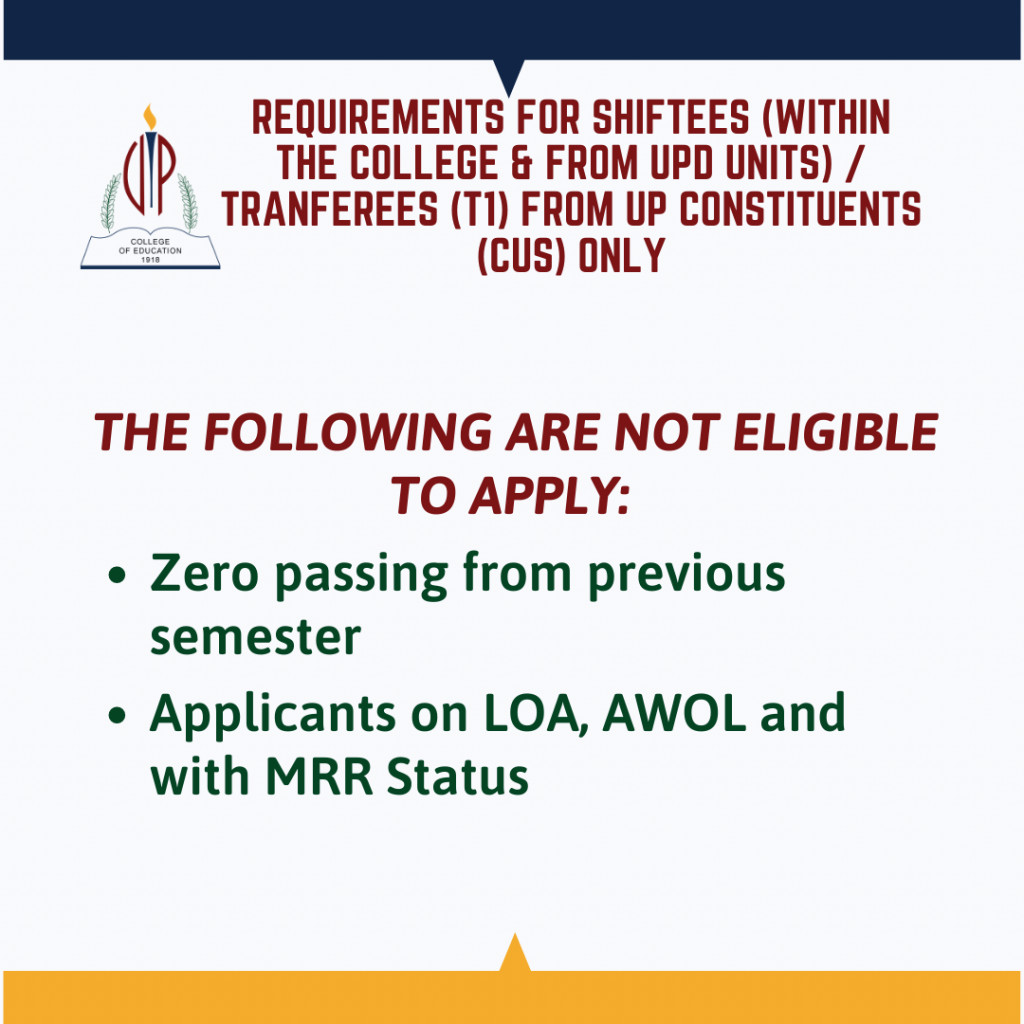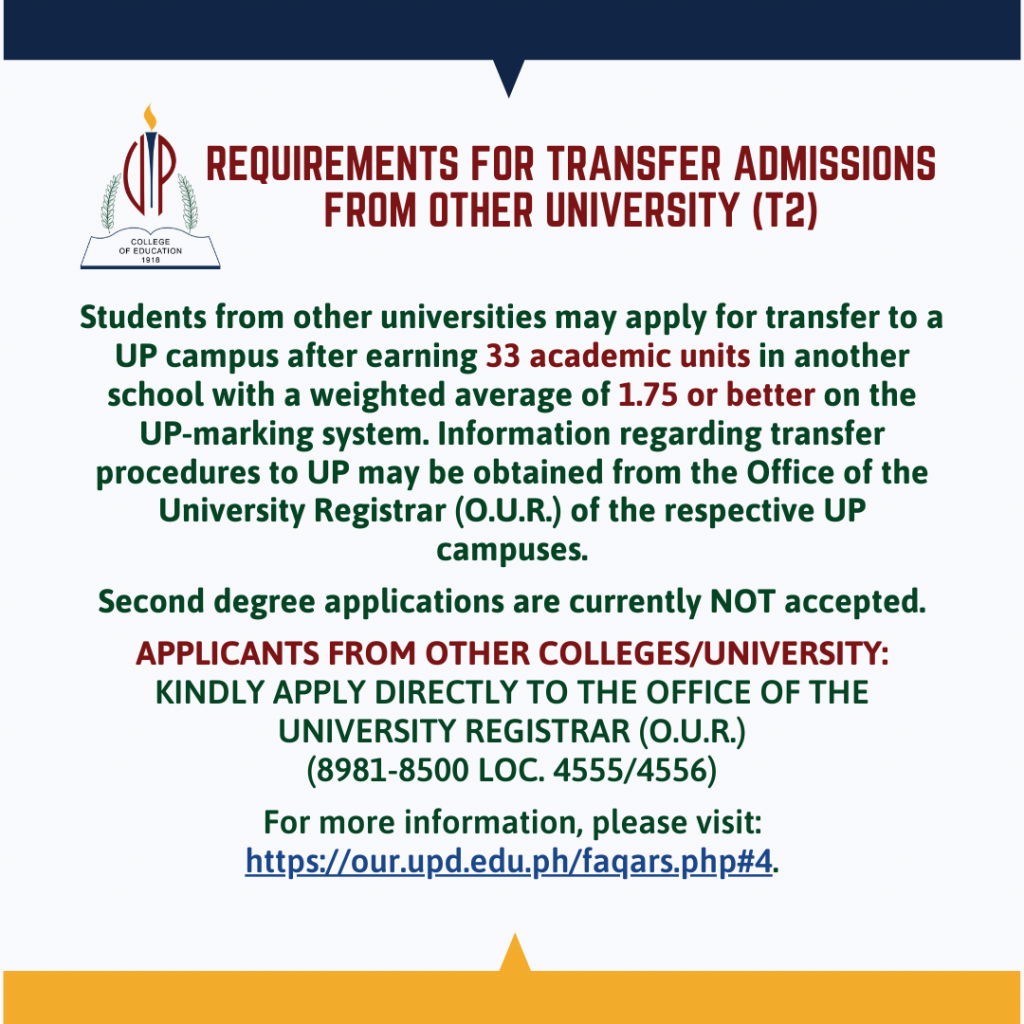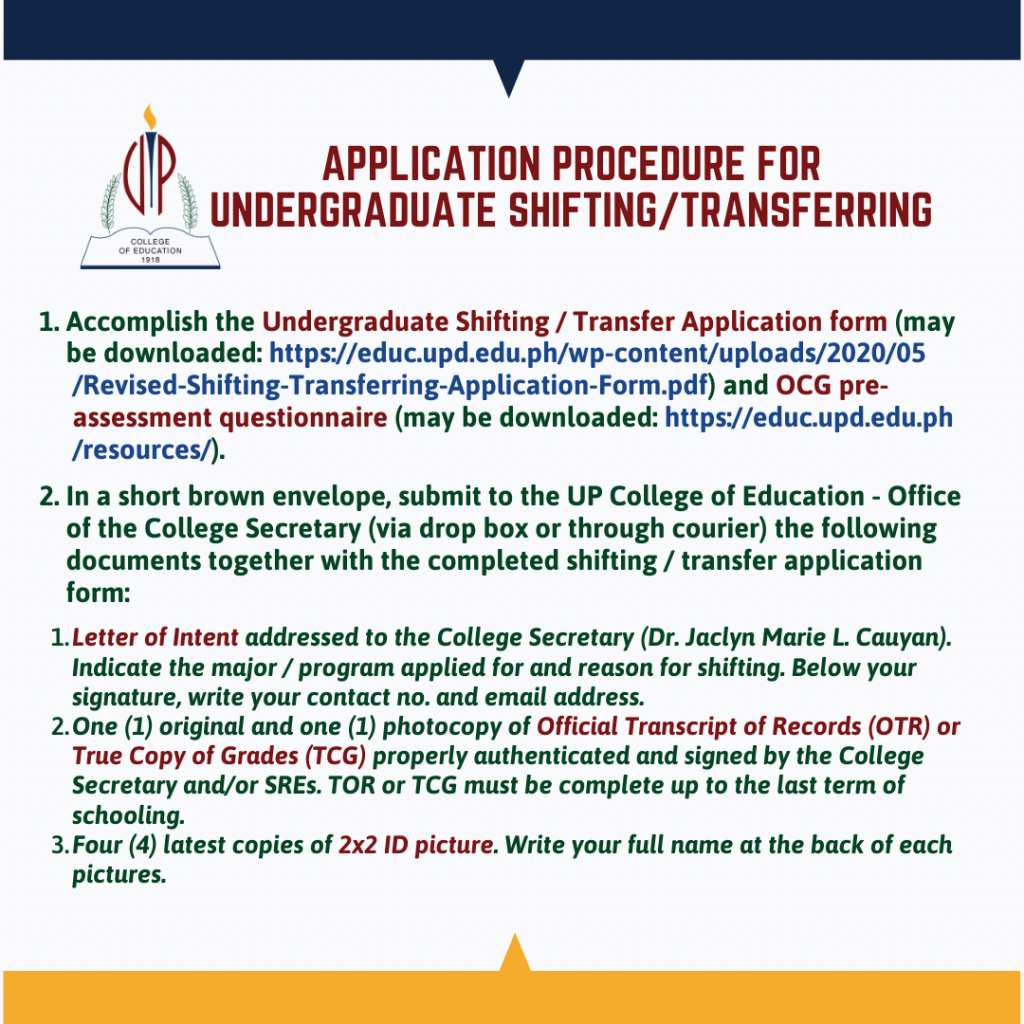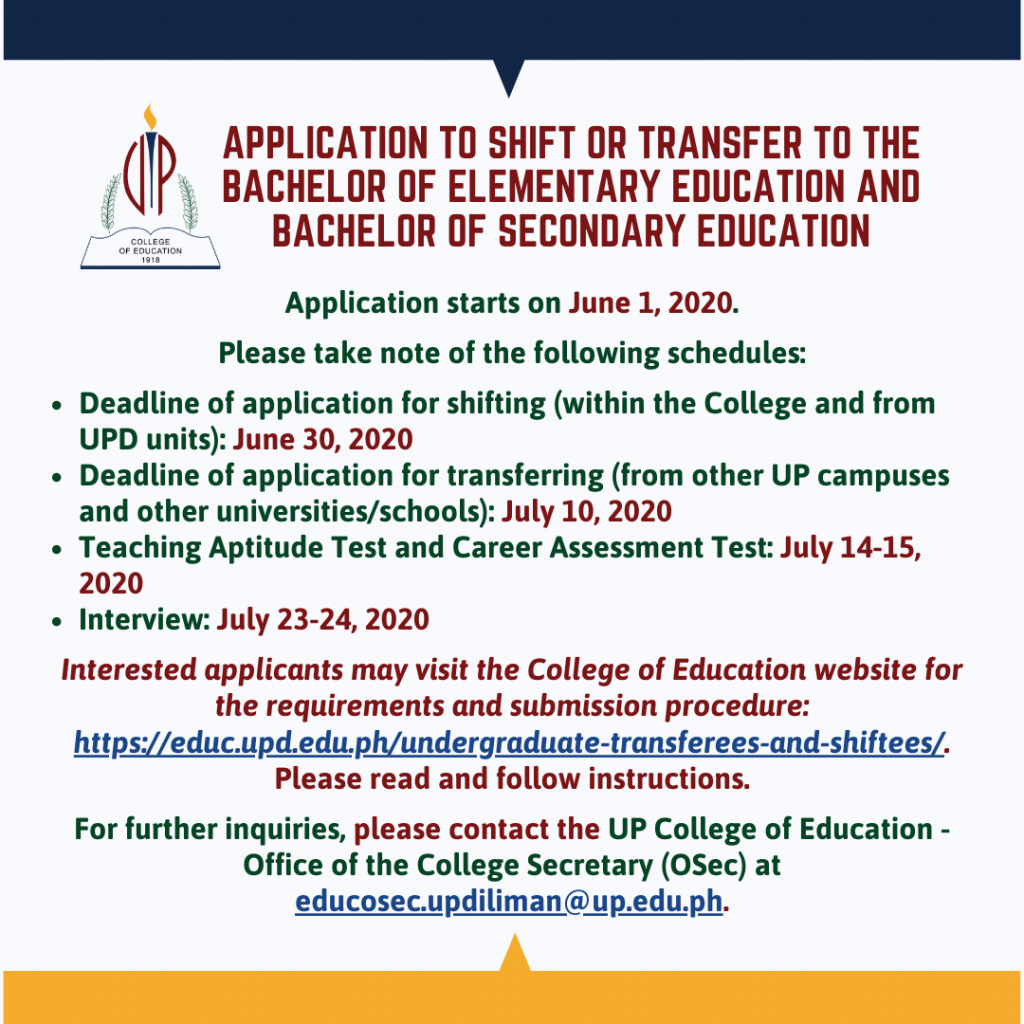 REQUIREMENTS FOR SHIFTEES (within the College & from UPD units) / TRANFEREES (T1) FROM UP CONSTITUENTS (CUs) ONLY
GWA of 2.5 (from UP Diliman units); 2.25 (from Other UP units)
Must have earned 30 academic units or more
Letter of Intent addressed to the College Secretary
Latest Transcript of Records (TOR) / True Copy of Grades (TCG) – 1 original and 1 photocopy
Latest 2×2 ID pictures – 4 copies Short brown envelope
Accomplished Shifting / Transfer Application Form and OCG pre-assessment questionnaire
THE FOLLOWING ARE NOT ELIGIBLE TO APPLY:
Zero passing from previous semester
Applicants on LOA, AWOL and with MRR Status
REQUIREMENTS FOR TRANSFER ADMISSIONS FROM OTHER UNIVERSITY (T2)
Students from other universities may apply for transfer to a UP campus after earning 33 academic units in another school with a weighted average of 1.75 or better on the UP-marking system. Information regarding transfer procedures to UP may be obtained from the Office of the University Registrar (O.U.R.) of the respective UP campuses.

Second degree applications are currently NOT accepted.

APPLICANTS FROM OTHER COLLEGES/UNIVERSITY: KINDLY APPLY DIRECTLY TO THE OFFICE OF THE UNIVERSITY REGISTRAR (O.U.R.)
(8981-8500 LOC. 4555/4556).

For more information, please visit: https://our.upd.edu.ph/faqars.php#4.
PROCEDURE
1. Accomplish the Undergraduate Shifting / Transfer Application form (may be downloaded: https://educ.upd.edu.ph/wp-content/uploads/2020/05/Revised-Shifting-Transferring-Application-Form.pdf) and OCG pre-assessment questionnaire (may be downloaded: https://educ.upd.edu.ph/resources/).
2. In a short brown envelope, submit to the UP College of Education – Office of the College Secretary (via drop box or through courier) the following documents together with the completed shifting / transfer application form:
2.1. Letter of Intent addressed to the College Secretary (Dr. Jaclyn Marie L. Cauyan). Indicate the major / program applied for and reason for shifting. Below your signature, write your contact no. and email address.
2.2. One (1) original and one (1) photocopy of Official Transcript of Records (OTR) or True Copy of Grades (TCG) properly authenticated and signed by the College Secretary and/or SREs. TOR or TCG must be complete up to the last term of schooling.
2.3. Four (4) latest copies of 2×2 ID picture. Write your full name at the back of each pictures.
3. Wait for the email message to be sent by the Office of the College Secretary for the receipt of your documents and for your schedule in the evaluation process.
4. Strictly follow the schedule assigned by the College regarding admissions activities. The screening process is done on an appointment basis in compliance with Memorandum from the Executive Secretary "On Stringent Social Distancing Measures and Further Guidelines for the Management of the Corona Virus Disease 2019 (COVID-19) Situation".
Application to shift or transfer to the Bachelor of Elementary Education and Bachelor of Secondary Education starts on June 1, 2020.
Please take note of the following schedules:
Deadline of application for shifting (within the College and from UPD units): June 30, 2020
Deadline of application for transferring (from other UP campuses and other universities/schools): July 10, 2020
Teaching Aptitude Test and Career Assessment Test: July 14-15, 2020
Interview: July 23-24, 2020
*For further inquiries, kindly call UP College of Education – Office of the College Secretary (OSec) at (8)981 8500 loc. 2807/2817 or email at educosec.updiliman@up.edu.ph
Office of College Secretary
Room 104
College of Education
Benitez Hall, Roxas Avenue
University of the Philippines
Diliman, Quezon City