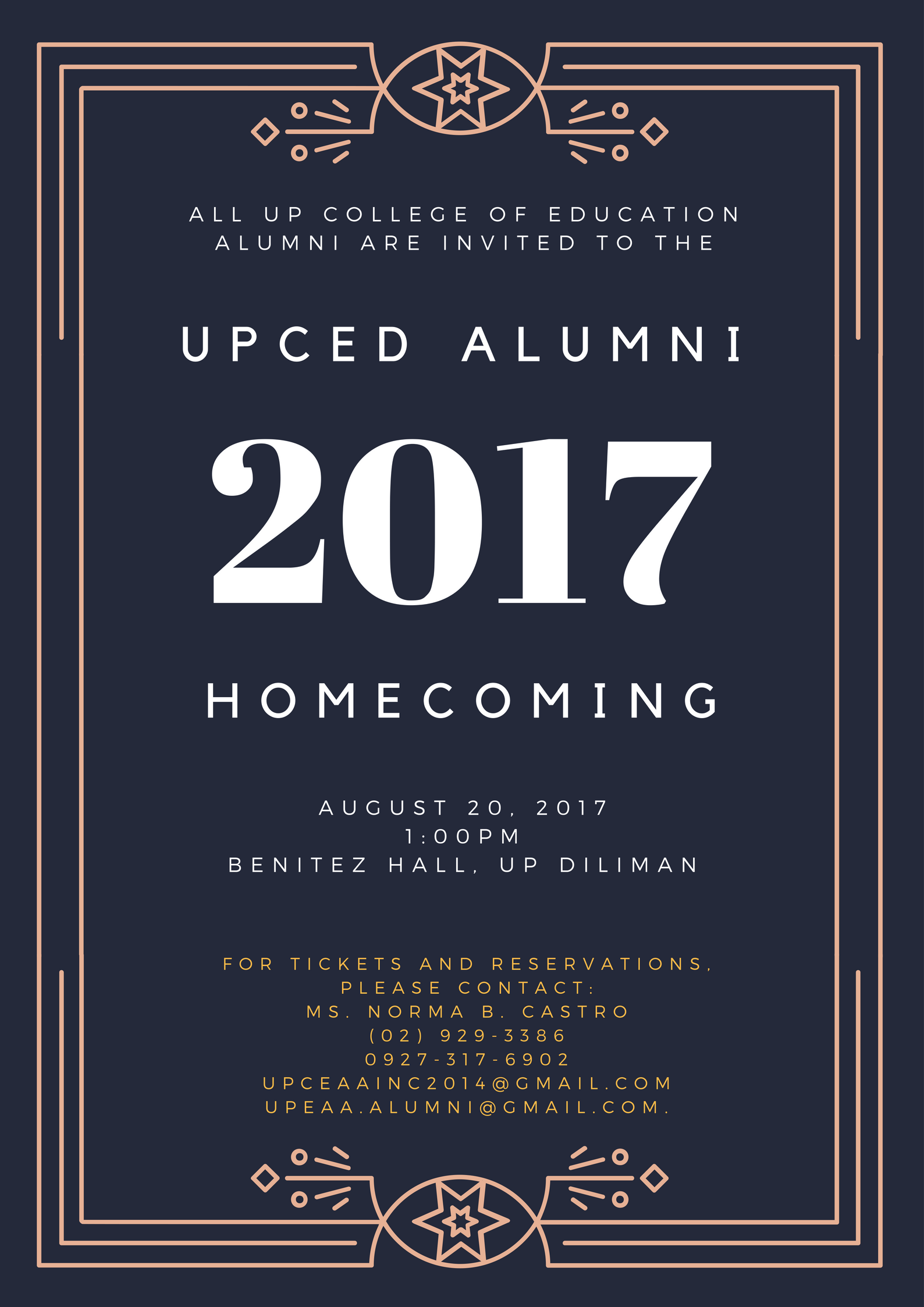 The UP College of Education Alumni Association (UPCEAA) invites all UPCEd alumni to this year's alumni homecoming on August 20, 2017, Sunday, at 1:00pm at the Benitez Hall, College of Education, Roxas Avenue, University of the Philippines, Diliman, Quezon City.
This is a great time to renew acquaintances, relive the memorable experiences and celebrate with each other and our dear Alma Mater.
This year's homecoming honors the following:
Jubilarians
Diamond: 1957
Golden: 1967
Ruby: 1977
Silver: 1992
Outstanding Alumni of the College of Education
All alumni and faculty of the college
Jubilarians and alumni batches are encouraged to present their respective batch presentations, showcase with a theme. Please be there in your smart casual get-up. There will be prizes for big delegations. There are also lots of door prizes for the raffles.
Please register early. Tickets are at only PhP 400.00 inclusive of the merienda cena and miscellaneous expenses. Reserve your tickets by calling Ms. Norma B. Castro at the UPCEAA at (02) 929-3386 (PLDT line), or 0927-317-6902 (mobile phone). You may also send your requests for reservation at telefax number (02) 929-3386 or via email upceaainc2014@gmail.com or upeaa.alumni@gmail.com.
Alumni who need physical assistance may come with their support person. Awardees may come with members of the family. Tickets for non-alumni guests are likewise at PhP 400.00.
Furthermore, may we appeal for your continuing support to the various projects of UPCEAA.
Your fellow alumni look forward to seeing you on August 20, 2017, when we shall relive once more the fond memories of our days at the College of Education.
We are also encouraging you to nominate alumni form the UP College of Education for the following categories:
Professional Achievement Award
Professional Leadership Award
Distinguished Educator Award
UPCEAA Community Service Award
Please contact Ms. Norma B. Castro at (02) 926-3386 or via email upceaainc2014@gmail.com or upeaa.alumni@gmail.com for the 2017 UPCEAA OUTSTANDING ALUMNI NOMINATION FORM.
If you are a Jubilarian, please contact Prof. Carmelita Caparros-Ramirez (734-0393 or 0917-3030675).
We hope to see you all!