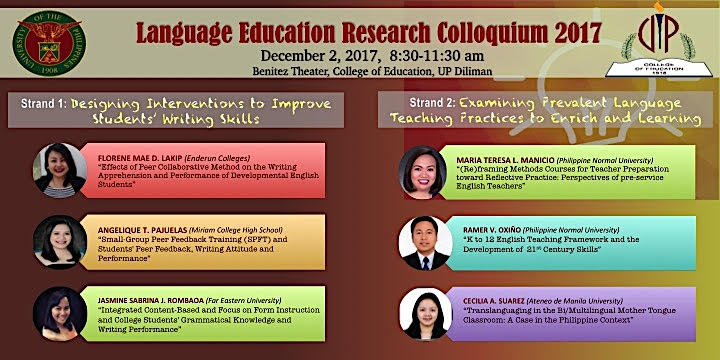 Event: Language Education Research Colloquium  for Sem 1, AY 2017-2018
Date: December 2, 2017, Saturday, 9:00-11:30 am
Venue: Benitez Theatre, College of Education, UP-Diliman
Admission is free, and certificates of attendance will be distributed.
Teachers and students from other institutions are welcome.
This semester's colloquium has two strands. The first features new graduates of the Area in the master's program, while the second strand features doctoral students who will present their potential dissertation topics.
Strand 1: Designing Interventions to Improve Students' Writing Skills
Small-group peer feedback training (SPFT) and students' peer feedback, writing attitude and performance by Angelique T. Pajuelas (Miriam College High School)
Effects of peer collaborative method on the writing apprehension and performance of developmental English students by Florene Mae D. Lakip (Enderun Colleges)
Integrated content-based and Focus on Form instruction and college students' grammatical knowledge and writing performance by Jasmine Sabrina J. Rombaoa (Far Eastern University)
Strand 2: Examining Prevalent Practices to Enrich Language Teaching and Learning
(Re)framing methods courses for teacher preparation toward reflective practice: Perspective of pre-service English teachers by Maria Teresa L. Manicio (Philippine Normal University)
K to 12 English teaching framework and the development of 21st century skills by Ramer V. Oxino (Philippine Normal University)
Translanguaging in the bi/multilingual mother tongue classroom: A case in the Philippine context by Cecilia A. Suarez (Ateneo de Manila University)